Recombinant human virus-neutralizing antibodies are the active component of the immunotherapy
Fighting COVID-19 with recombinant fully human antibodies neutralizing SARS-CoV-2 to help COVID-19 affected patients
CORAT Therapeutics GmbH develops innovative therapeutic drugs composed of novel fully human neutralizing antibodies against COVID-19. CORAT antibodies very efficiently neutralize SARS-CoV-2 and stop its spread within the human body. Our lead product, COR-101, decreased the virus load in the lung by more than 99 % in the hamster COVID-19 model, and induced recovery after 2 days, compared to 7 days untreated.
»Even with widespread availability of COVID-19 vaccines, not all people will be able to receive a vaccination. Therefore, further effective drugs are needed to treat infected people.«
Federal Research Minister Anja Karliczek, BMBF press conference, Sept 6, 2021
In contrast to any vaccine, a therapeutic drug is dedicated to treat and cure COVID-19 infected patients, like those who did not respond sufficiently to a vaccination, or who are not vaccinated. In addition, therapeutic drugs can also be used for prophylaxis. They allow for passive immunization and immediate protection of people exposed to the virus such as healthcare workers or risk groups (people suffering from underlying diseases) who are at increased risk of severe COVID-19 disease progression.
Fast-track development of COVID-19 therapeutics
Towards our goals, a large set of more than 700 different fully human monoclonal antibodies recognising the SARS-CoV-2 spike (S) protein has initially been isolated. This has been achieved by antibody phage display from human antibody gene libraries which were obtained from healthy donors and convalescent COVID-19 patients. The antibody candidates were then fast-tracked to identify our lead molecules with optimal drug properties for a passive vaccine. Thanks to innovative and state-of-the-art technology, a network of excellent scientific experts, and competent contract companies, the development and GMP-compliant production of COR-101 could be completed within the shortest time. The entry into the first clinical trial was thus achieved in a record time of only 11 months after project start.
How CORAT antibodies protect
Recombinant human virus-neutralizing antibodies are the active components of our immunotherapy concept (also named »passive vaccine«). Antibodies (immunoglobulins, e.g. IgG) are molecules made by our own body to protect us against infections.
Video: CORAT SAB member Prof. Dr. Dübel explains how antibodies protect our body against coronavirus infections.
Antibodies developed by CORAT stop the virus by inhibiting its ability to invade human cells. In this way, they can protect patients who do not develop sufficient anti-COVID antibodies themselves in time. CORAT antibodies neutralise SARS-CoV-2 immediately after injection. They thus offer exactly the same protection as the body´s own antibodies that are formed due to an infection or after a vaccination.
COR-101 neutralizes SARS-CoV-2 by occupying the attachment site of the viral spike protein needed to contact human cells before infection (animation based on COR-101 crystal structure PDB structure 7B3O).
Our neutralising antibodies are expected to be very well tolerated as they are fully human proteins, like the antibodies we have in our body every day anyway. They could either be used before infection to protect vulnerable individuals or medical personnel, or after an infection with immediate antiviral effect.
More than 8,000 antibodies screened to identify lead candidate COR-101
11 months from identification to first-in-man trial
0 targeted therapies available to treat moderate to severe COVID-19
Frequently asked questions
What is the difference between a vaccine and CORAT antibodies?
An active vaccine protects healthy persons after some weeks, but it does not help patients who are already infected. Neither it can provide prophylactic protection. CORAT antibodies (passive vaccines) supplement the antibodies that are either not yet or insufficiently present in the patient's body. They help to lower the virus burden almost immediately after administration and can thus be used for prophylaxis as well as for the treatment of infected patients.
Why are therapeutic COVID-19 antibodies needed?
Despite the invaluable importance of vaccines, the development of COVID-19 therapies remains essential. An active vaccine can only protect after some weeks, but it does not help patients who are already infected. Unvaccinated or people who have not responded adequately to vaccination (vaccine breakthrough) require appropriate treatment options.
How do CORAT antibodies work?
Our antibodies are administered to the human blood where they bind to different surface molecules of the SARS-CoV-2 virus, such as the receptor binding domain (RBD). By that, the virus is surrounded by neutralizing antibodies and cannot attach to human cells anymore. The virus-antibody complex is not infectious anymore and is cleared from the blood stream.
Are CORAT antibodies safe?
CORAT antibodies are produced from a gene directly obtained from human donors, i.e. it has already been previously produced in a human person. Further, our drug candidates exclusively bind to viral surface molecules and do not interact with the human body. To ensure our antibodies are safe, we perform dedicated safety studies in animals and conduct clinical trials in accordance with regulatory guidelines.
What is unique about CORAT antibodies?
In contrast to other anti-SARS-CoV-2 antibodies, COR antibodies bind to most virus variants which were detected since the start of the pandemic. Importantly, most variants of concern such as the predominant delta variant (B.1.617.2) are effectively neutralized. In addition, COR antibodies have been designed with a special safety modification, that allows their use in patients with advanced COVID-19 (moderate and severe).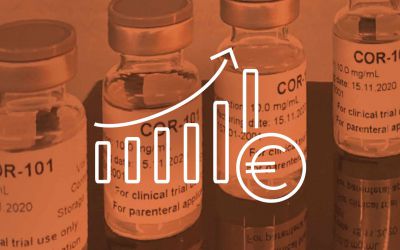 CORAT Therapeutics GmbH receives € 38.7 Mio. funding for the clinical development of COR-101, a drug to treat hospitalized COVID-19 patients with moderate to severe symptomsClinical processing of COR-101 is financially securedPreparation for market entry in 2023 Braunschweig, July 13, 2022 – The biopharmaceutical startup CORAT Therapeutics GmbH ("CORAT"), based in Braunschweig, Germany, has been awarded additional funding of up to €38.7 Mio. from the German government for the pivotal clinical...
read more